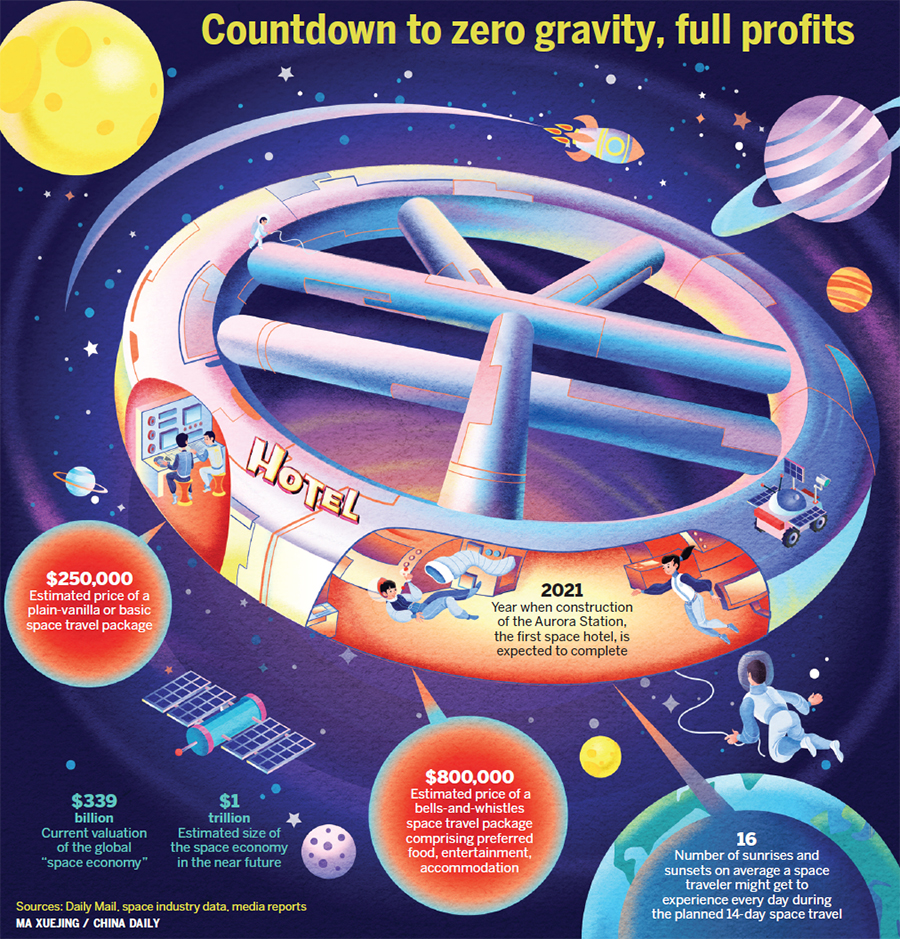 Private firms' forays into space and satellites herald new era in economic development, strengthen B&R

More and more private enterprises are strengthening China's efforts to harness space for earthly development and planet-wide progress.
Wu Yanhua, deputy chief of the China National Space Administration, said commercial aerospace has become a new hot spot in the global economy, and the industry is expanding at an unprecedented rate.
For the private sector in China, commercial aerospace is one of the next big things. Take Commsat Technology Development Co Ltd for instance.
By 2021, the Beijing-based company will launch as many as 72 commercial low-earth orbit satellites worth around 2.16 billion yuan ($338 million), which will form a real-time data collection constellation.
Different industries, including heavy machinery and logistics, will benefit, Commsat officials said.
"The satellites will be used to provide data observation services for the oil pipeline in Central Asia, and the container shipping and infrastructure construction sectors in Africa," Commsat CEO Xie Tao said.
Commsat's investment is just one example. What started as a trickle of private capital flowing into space not long back is growing into a mighty river of sorts.
And that river will traverse across countries and regions related to the China-led Belt and Road Initiative, shoring up projects and industries of logistics, container shipping and others.
The current push started in 2016, when the State Council released a white paper on the industry prospects. Ever since, the government has been encouraging private investors to enter the commercial aerospace sector. The idea is to allow them to operate satellites, be involved in aerospace research, and build space infrastructure.
That is a contrast to the past when the industry was focused on defense. Military satellites had limited commercial applications. The Chinese government has pushed for integration of military and civilian aerospace sectors. In response, China's space industry has gradually developed more commercial technologies, products and services.
Commsat said it plans to position its 72 satellites in six different orbits, about 700 kilometers above earth. Each satellite will weigh more than 100 kilograms, with a life span of five to seven years.
Some of the satellites will cover the Belt and Road footprint, strengthening telecom coverage and industry data collection, said Commsat's Xie.
"Most of these places don't have the internet and the low-earth orbit satellites will help with telecommunications. Users could share data or keep it confidential, depending on their preference."
In the first half of 2019, the company will launch four satellites, using a tailor-made commercial rocket. This project will start Commsat's commercial applications of the internet of things. In the latter half of the same year, Commsat will launch another eight satellites.
All these projects are being bankrolled by eager investors who foresee handsome returns in the future.
Founded in 2015, Commsat received more than 100 million yuan ($15.6 million) in its A round of financing. It launched its first satellite in 2017.
The R&D cost for a satellite dedicated to the internet of things project is around 10 million yuan. Combined with launch, operations, maintenance and monitoring, total costs would be around 30 million yuan, according to Commsat projections.
Companies in the satellite-based services business see revenue streams in end products and communication services.
In communication services, a satellite can support 100,000 terminals or workstations on earth. Each terminal could yield 300 yuan in annual fee. That's 30 million yuan per year, which helps offset the costs, the company said.
End products, such as tailor-made solutions and terminals, can generate more revenue.
The satellite constellation devoted to the internet of things project will provide services to a number of sectors like logistics, transportation, heavy machinery, fixed assets, agriculture, forestry, animal husbandry and fisheries.
Real-time communication services for areas not covered by the internet could prove another cash cow.
To make all those theoretical possibilities a reality, Commsat has signed cooperation agreements with a number of domestic enterprises such as Sany Heavy Industry Co Ltd, China International Marine Containers (Group) Ltd, and CITIC Dicastal Co Ltd.
Commsat will provide data services to fields like engineering machinery, containers and logistics for the above mentioned companies.
Xie said the space constellation sector provides services directly related to consumers. Hence, focus is on innovation and operations.
The advantages of the traditional aerospace industry are its technology and large size.
But commercial aerospace thrives on new ideas and quick decision-making, he said.
"Changing terminals and services requires high costs, a long time and a complicated process, thus those companies that take the lead in winning the recognition of users first will get a huge advantage," he said.
"The enterprises that make faster decisions will be the winners. The low-earth orbit resources are limited, and the number of satellites that can be accommodated will not be too many. Everyone needs to follow the principle of preemptive strike.
"Enterprises that are not familiar with the aerospace sector, or those that started late with a slow launch frequency, may not be able to get the right frequency and orbit resources."
It's not as if the private sector is running away with all the commercial aerospace opportunities out there. State-owned China Aerospace Science and Technology Corp will start to launch its first group of satellites for what is called Hongyan constellation, and it will ultimately have more than 300 low-earth orbit satellites.
Currently, there are at least 17 low-earth orbit constellation programs that consist of over 100 satellites in operation. Unlike geostationary-earth orbit satellites, which are positioned around 36,000 kilometers above earth and mainly used for mobile phones and global positioning system or GPS applications, the low-earth orbit satellites, however, will serve industries with less intensive demand for information.
Dylan Taylor, founding partner of Space Angels, a global network of commercial aerospace investors and entrepreneurs, said space is one of the hottest industries with significant growth potential, and investors may hit pay dirt in areas like satellite launch rockets and earth observation.
The United States accounts for nearly half of the total revenues generated by the global commercial satellite launch market. It is driven largely by US aerospace manufacturer SpaceX.
Analysts say SpaceX and European aerospace manufacturer Arianespace have effectively created a duopoly in the satellite-related space business. But that might change sooner or later as Chinese companies are expected to pose a challenge.