President Xi Jinping conferred the Friendship Medal, the highest honor of China to foreigners, on Russian President Vladimir Putin on Friday for his long-standing, prominent work in strengthening friendship and partnership between China and Russia.
A grand ceremony was held to award the medal at the Great Hall of the People in Beijing. This is the first time the Friendship Medal has been awarded since China established its honor system in July last year.
Calling his Russian counterpart an intimate friend, Xi said at the ceremony that Putin is an influential leader of a major country who has made frequent visits to China and is well-known and highly respected by the Chinese people.
Thanks to Putin's great attention and personal care, the China-Russia relationship has withstood the trial of changing international relations, mutual political and strategic trust has intensified, across-the-board cooperation is making headway and the friendship between the two peoples is deepening, Xi said.
The relationship between China and Russia can be seen as a good example of the peaceful coexistence of two major neighboring countries, which significantly contributes to the building of the new type of international relations as well as the building of a community of shared future for mankind, he added.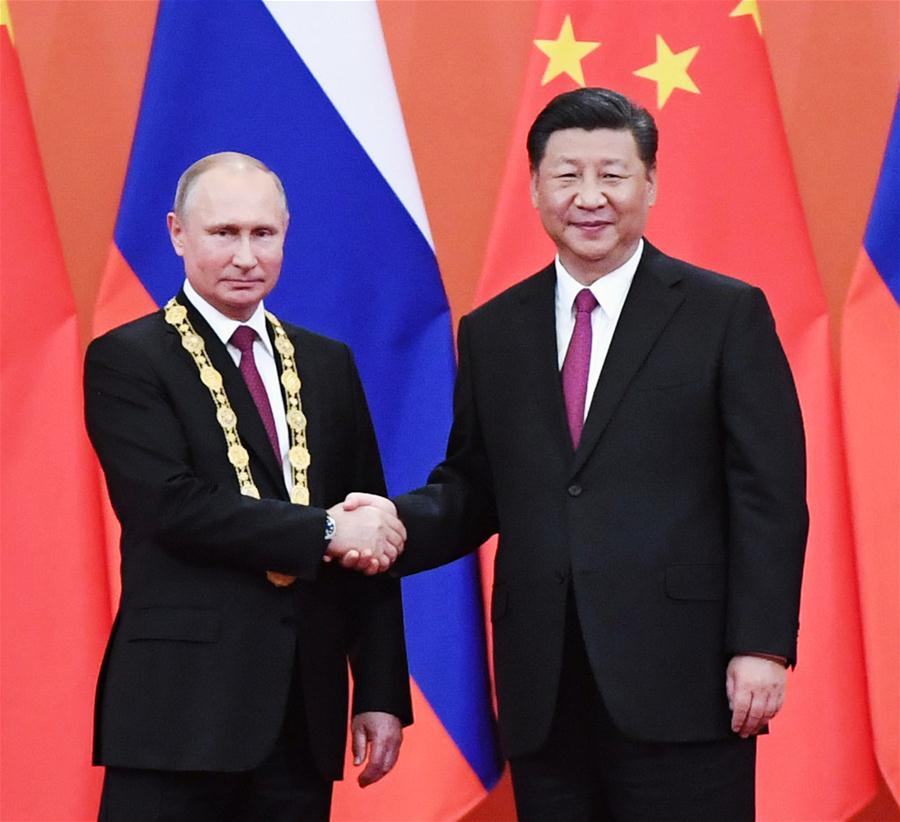 Xi stressed that the Friendship Medal represents the lofty reverence of the Chinese people for President Putin and symbolizes the deep friendship between the two peoples.
Looking ahead, Xi said he will continue to work together with Putin to guide China-Russia relations to an even brighter future by upholding the spirit of neighborly friendship, strategic coordination and win-win cooperation.
Putin expressed his gratitude to Xi for the medal, saying it was a "great honor".
During the ceremony, Putin said he values the medal greatly and sees it not only as a high personal honor, but also as evidence of the high level of the comprehensive strategic partnership of coordination between Russia and China, as well as the deep friendship between the two peoples.
He added that the solid foundation of the strategic partnership between the two countries is the close relationship that he and Xi share as well as the friendship between the two peoples.
Putin said he will work hand in hand with Xi to achieve common prosperity for Russia and China.
More than 700 Chinese and Russian officials, diplomats, youths, former soldiers and people who have made contributions to the friendship of the two nations witnessed the conferring ceremony.