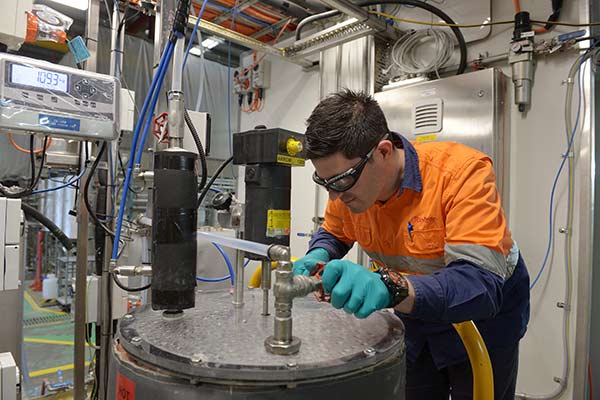 Mining giant Rio Tinto and China's State-owned Minmetals have signed a contract for a 50-50 joint venture to explore mineral deposits in China, which analyst called a win-win situation as it would enable both sides to maximize their individual advantages in exploring, developing and sales and marketing.
The priority for the joint venture will be mineral targets in China that have been identified under the Technical Collaboration Agreement, which the two sides signed in November and committed to a collaborative partnership in mineral exploration, said Rio Tinto.
The future collaboration of the parties will expand to exploration of global resources, it said.
"The formalization of the exploration joint venture is an important milestone in our growing partnership with China and Minmetals, which is an increasingly important player in the global mining industry," said Rio Tinto CEO J-S Jacques.
"Our complementary strengths in exploration put us in the best possible position to find metals and minerals essential to human progress."
China has been the company's biggest customer and Rio Tinto generates more than 44 percent of its global revenue from the country, supplying lots of products including copper and iron ore for steel, and bauxite for aluminum and diamonds, said Jacques, head of the world's second-biggest mining company.
Zhu Yi, a Hong Kong-based analyst at Bloomberg Intelligence, said the joint venture could also help Minmetals' overseas expansion as the joint venture starts with mining assets in China then shifts to overseas.
"China Minmetals has strength in base metals including copper, zinc, and nickel, and minor metals including tungsten, and antimony, with abundant resources and leading production volume," she said.
"The company could leverage the expertise of Rio Tinto, the world's second-largest iron ore miner, in iron ore, to explore Minmetals abundant iron ore resources in China. On the other hand, the JV offers Rio Tinto access to China market, the largest consumer for most metals."
According to Zhu, China is the largest consumer for most metals, and Rio's move shows its interests in the market about potential collaboration of developing resources and getting closer to the customer.
That is also the reason more international mining firms like BHP and Vale are looking to team up with Chinese counterparts, she added.
The registered capital of the joint venture is $31.3 million with initial contributions of $5.5 million by each party within about 6 months of establishment of the joint venture.
According to Guo Wenqing, president of China Minmetals Corporation, Rio Tinto has rich prospecting experience and great discoveries worldwide, while Minmetals has solid technical expertise and extensive experience – the two strong partners will drive breakthroughs, pioneer progress, and promote the exchanges and collaboration of the global resource industry.
The joint venture is subject to regulatory approvals.