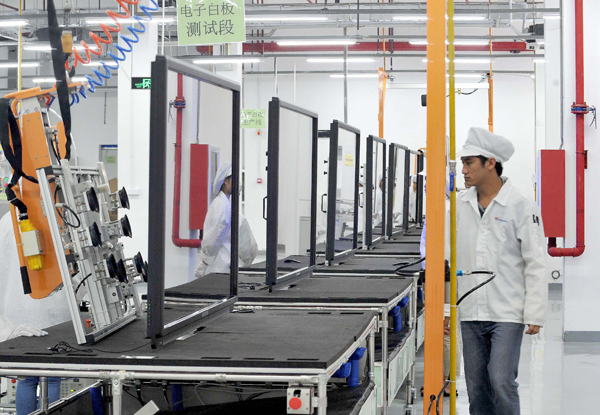 Foxconn Technology Group has said it will ramp up efforts to promote intelligent manufacturing, and take a lead in boosting the integration of the internet, big data and artificial intelligence with the real economy, in a bid to wean itself off its heavy reliance on manufacturing smartphones and diversify into new areas.
"Based on our 30 years of experience in research and development and sophisticated manufacturing, we will utilize our core technology capacities in cloud computing, the internet of things, big data, AI and robots to support small and medium-sized enterprises," said Terry Gou, chairman of Foxconn at the company's 30th year anniversary celebrations in Shenzhen, Guangdong province.
Gou emphasized the development of the industrial internet, and is bullish on its prospects, expecting it will witness explosive growth and generate opportunities for the manufacturing industry.
According to a study from General Electric, the industrial internet could find direct application in sectors accounting for $82 trillion in global economic activity by 2025, accounting for one half of global economic output.
The industrial internet refers to a network of combined, advanced machines with internet-connected sensors and big data analytics, which is expected to boost productivity and reduce costs in industrial production.
Wang Weizhong, Party secretary of Shenzhen, said he hoped Foxconn will increase investments and set up more intelligent manufacturing and R&D centers in Shenzhen.
Foxconn is now trying to transform from a low-cost assembler of electronics devices and products, and become an advanced manufacturer in the global supply chain.
Foxconn Industrial Internet Co Ltd, a subsidiary, said trading in its shares will debut on Friday in Shanghai. The unit previously announced plans to raise up to 27.1 billion yuan ($4.2 billion) in what will be the Chinese mainland's biggest IPO in almost three years.
It plans to use the proceeds to fund eight projects focusing on the industrial internet, cloud computing, data centers, communication networks, fifth-generation mobile communications, the internet of things, intelligent manufacturing and industry upgrades.
Affiliates of Baidu Inc, Alibaba Group Holding Ltd and Tencent Holdings Ltd will become strategic investors in the Foxconn unit.
In November, the State Council issued a guideline aiming to build three to five industrial internet platforms that will reach international standards by 2025.
"Foxconn is not just a contract manufacturer of electronic devices, but is also engaged in the design and production of some precision elements in the supply chain sector, and gained experience and strength in intelligent manufacturing," said James Yan, research director at Counterpoint Technology Market Research.
Yan said the application of the industrial internet will enhance the capacities of Foxconn in intelligent manufacturing, reduce costs and improve operating efficiency.