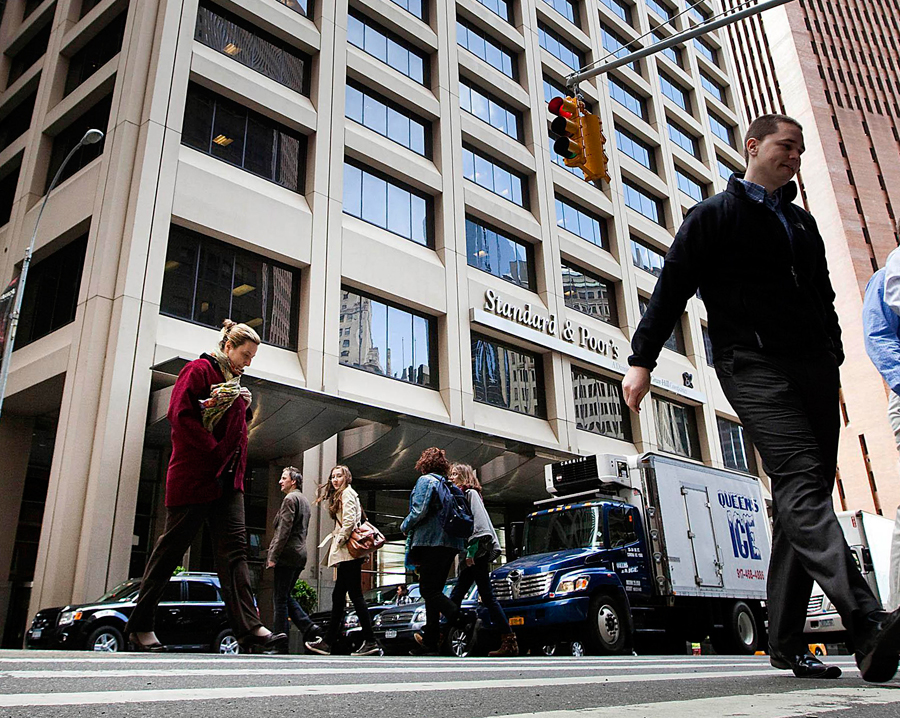 Pedestrians cross the street in front of the Standard & Poor's Financial Services LLC building in New York. [Photo provided to China Daily]
Move a precursor to nation's further opening-up of its financial sector
Two foreign ratings agencies-Fitch Ratings and S&P Global Ratings-have announced that they plan to launch their own companies in the mainland, amid China's further opening-up in its financial sector as they target the huge potential of the world's third-largest bond market.
A spokesperson for Fitch said that it is planning to apply for a license from Chinese regulators to operate independently in the country. "The changes in China's regulatory landscape provide an opportunity for us to consider and evaluate how we can best serve the needs of local and global capital markets going forward," said the spokesperson.
"Fitch has a well-established presence in China and is strongly committed to supporting the development of China's capital markets."
Fitch sold its 49 percent equity interest in China Lianhe Credit Rating Co Ltd to Singapore's sovereign wealth fund GIC in January, after jointly running the business since April 2007. The agency continues to operate its international credit rating business throughout the region, including through its offices in Beijing and Shanghai.
S&P told China Daily that it plans to establish its own company in the country, following regulatory changes which permit the foreign ownership of domestic ratings companies.
"The establishment process is a gradual one and we will announce further details, including timing, in due course," according to a S&P spokesperson.
"The company will be established as a greenfield operation and built organically. We believe this option allows us to build the model that best suits our business and clients alike, while aligning well with the policy goals of local regulators," the agency said. It will end a partnership with Shanghai Brilliance Credit Rating, for which it has provided training and technology assistance since 2008.
Fellow international rating agency Moody's has not yet decided whether to apply for business in the mainland as a wholly owned foreign company, according to its statement.
Moody's, which owns a stake in Beijing-based China Chengxin International Credit Rating Co, is "analyzing its options", its spokesperson said.
Zhu Min, former deputy managing director of the International Monetary Fund, said that as an important part of the financial market infrastructure, the opening-up of credit rating business to foreign agencies will help to improve market transparency and strengthen competition.
"Only if the Chinese financial sector opens, could a modern regulatory system be founded or it is just a castle in the air," said Zhu, who believes the opening-up could consolidate financial stability.
Experts said that the entry of foreign rating agencies will strengthen foreign investors' confidence in China's corporate bond market based on reliable ratings.
China's interbank bond market had attracted 1.15 trillion yuan ($179.95 billion) in foreign investment by the end of April, a year-on-year increase of 49.34 percent, due to relatively higher bond yields and the stable exchange rate of the yuan, according to data from the central bank.