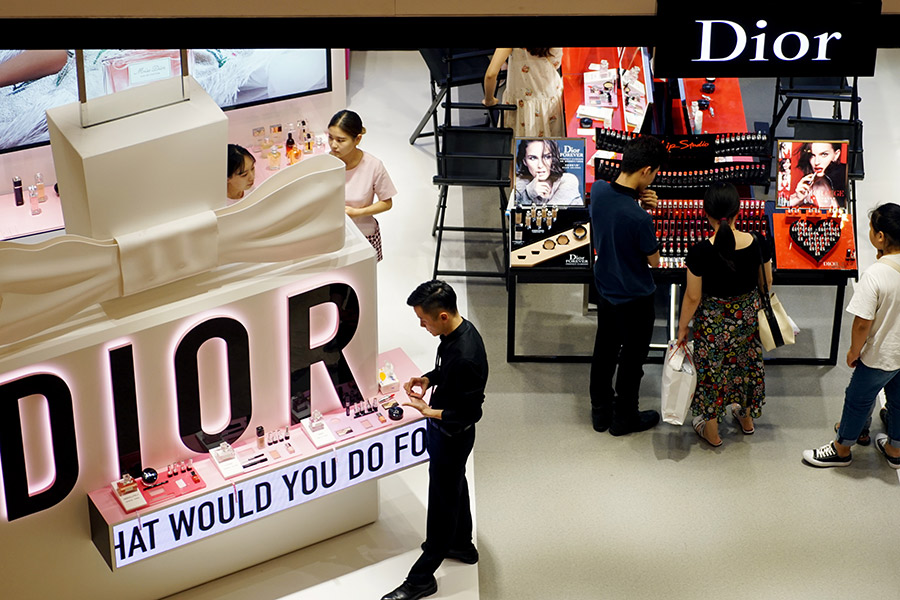 More than four months after French fashion house Christian Dior became the first luxury brand to have an official account in China on shortvideo app Douyin, it had attracted less than 40,000 followers with the 13 short video clips it uploaded.
In fact, it did not catch much attention until a week ago, when the brand posted five clips centering on its limited Dioramour bag launched exclusively in China for the nation's own Valentine's Day, which falls on Aug 17 this year.
But industry insiders and analysts said the unusually low following, which is only a fraction of that of brands such as Adidas and Uniqlo on the fast rising app, is not unexpected considering the "not so entertaining" content shared, but this doesn't mean that it's a failed publicity stunt.
"It's very much like when Burberry stood out as the first brand to open an e-commerce store on Tmall (in 2014). It's less about how much you sell, or how many followers you have attracted. Dior will always be remembered as the first one on Douyin, and how it stays connected to the young," said Alina Ma, associate research director of consultancy firm Mintel.
Established less than two years ago, upstart app Douyin has managed to gain 500 million users globally, according to statistics it published at the end of June. Up to 70 percent of its active users are women, and 85 percent are under the age of 25-the millennial generation.
Consultancy Bain & Company's latest annual luxury study found that the millennial generation in China has become the key growth driver of the industry, capable of buying an average of eight luxury items every year, three more than their senior counterparts. But the report didn't reveal the price of the luxury items purchased by the younger generation.
"Every luxury brand today is making difficult decisions between staying exclusive and becoming accessible, which essentially means sticking to its tradition and driving up business," said Bedi Ye, founder and editor-in-chief of luxury watcher website Fashiontrenddigest.
Late in June, Serge Brunschwig, chairman and CEO of Fendi, told China Daily that "a brand like Fendi must communicate with the people of today and tomorrow, even if they cannot afford Fendi now".
Other brands like Michael Kors and Chanel have also tried to collaborate with Douyin, which has risen to rival China's two social media giants Sina Weibo and Tencent's WeChat, on recent marketing campaigns in China.
For Dior, the strategies seem to be consistent with its global strategy.
In July, its designer Maria Grazia Chiuri was quoted by Agence France-Presse as saying during the Paris Haute Couture Week that the audience that buys the French label's dresses is not "an audience that spends its time on Instagram".