Chinese smartphone vendor Vivo is trying to push the envelope of technology with its latest model Nex, which features a bezel-less design, an in-display fingerprint scanner and a pop-up front-facing camera.

The handset, released in Shanghai on Tuesday night, is Vivo's latest efforts to build up its brand as a pioneer keen to experiment with new technologies. It also came as the Chinese company is exploring overseas market, trying to find more footholds in foreign countries with premium devices.

Dubbed as an all-screen phone, the Vivo Nex does not have a notch on top of its display, a feature first used by Apple Inc in its iPhoneX and then commonly seen in most Android phones. Nex features a screen-to-body ratio of 91.24 percent, but it still has a slim bezel at the bottom of its display.

Ni Xudong, senior vice-president of Vivo, said the company is ramping up research and development capabilities, with a string of artificial intelligence labs and R&D centers built in China and overseas countries.

"Nex is a crystallized result of our consistent efforts to make smartphones that can really stand out in the fierce market," Ni said.

Priced up to 4,988 yuan (around $780) in China, Nex is equipped with an elevating front camera, to ensure quality selfie-taking performance. The camera can pop out from the top edge of the phone when users take selfies. It automatically lowers after users switch from the front camera to the rear or close the camera app.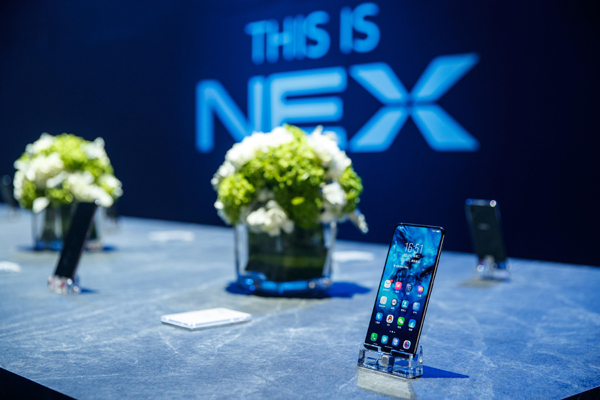 In response to concern that frequent ups and downs will cause hardware failure, Vivo said the camera, equipped with an 8MP sensor, can be raised and lowered over 50,000 times.

The new handset also has a fingerprint scanner under the screen, which enables rapid finger recognition to unlock the phone. Inside, the premium version of Nex is driven the Qualcomm Snapdragon 845 processor, with 8GB of RAM, 256GB of storage.

Already the third-largest smartphone vendor in China, Vivo is ramping up efforts to explore foreign markets. It now has expanded its presence in over 370 overseas cities with over 200 million users worldwide.

In the first quarter of this year, the company shipped about 19.5 million units of handsets globally, accounting for 5.4 percent of the world smartphone market, data from market research company Counterpoint shows.