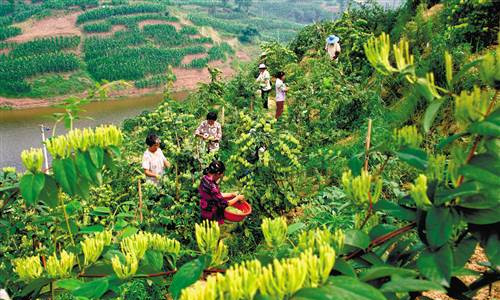 BEIJING - China will push forward the green development of its agricultural sector by strengthening environmental protection and pollution control, an official said Thursday.
"The Ministry of Agriculture and Rural Affairs has prioritized rural environmental protection amidst rural economic development," Liao Xiyuan, head of the ministry's technology and education division, said at a press conference.
In 2015, China set a goal to reduce the use of chemical fertilizers and pesticides to ensure "zero growth" by 2020. As of 2017, the amount of pesticide use had dropped three years in a row, and that of chemical fertilizer for two consecutive years.
"The goal of zero growth was realized three years in advance," Liao said, adding that China will continue to reduce the use of chemical fertilizers and pesticides.
In the future, China will also step up building an environment protection policy system for agriculture and rural areas to ensure lasting effects, including mechanisms for green development, pollution control, and financial input, he said.
To pursue green development, China will introduce policies on a negative list for investment in the sector, implement crop rotation, and recycle livestock excrement, according to the official.
He added that the country would also promote the innovation of agricultural technology to save more resources and energy.
Regarding the improved living environment in rural areas, Liao stressed the regulation of agricultural wastewater and the implementation of the "toilet revolution."
On Wednesday, the ministry publicized a guideline for promoting environmental protection in agriculture and rural areas to coordinate efforts of local authorities.